COLLEGE APPLICATION REQUIREMENTS AY 2024-2025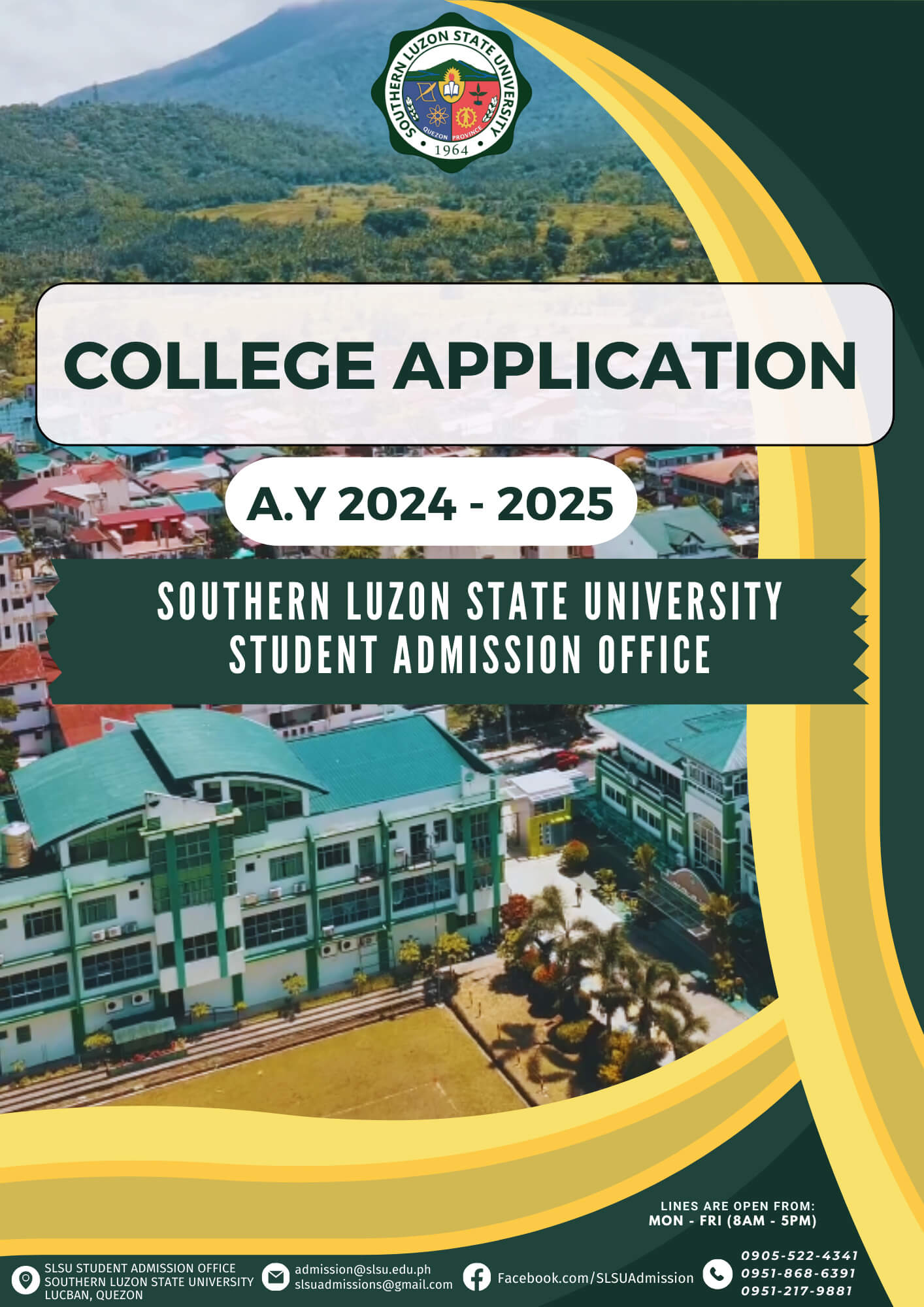 SLSU COLLEGE APPLICATION A.Y. 2024-2025
Application Requirements:
1. Duly accomplished College Application Form
2. Clear copy of Academic Records
-For Grade 12 students expected to graduate at the end of the Academic Year:
Grade 11 Report Card duly signed by the principal and class adviser
-For Senior High School Graduate:
Grade 12 Report Card duly signed by the principal and class adviser; GWA of 83% or better
-For Transferees and returnees:
Transcript of Records (TOR)/ Copy of Grades with GWA. They must have a GWA of 2.25 (83%) or better, without INC and/or failing grades.
3. Updated Certificate of income for BOTH parent(s)/ guardian(s)
-For 4P's members:
Certification from MSWD/DSWD indicating the Household Number and name of beneficiary.
-For Indigenous People Member ("Mga Katutubo"):
Certification from the IP Chieftain
Enhanced Comprehensive Local Integration Program (E-CLIP) Beneficiary/ Payapa at Masaganang Pamayanan-Peaceful and Resilient Communities (PAMANA) Beneficiaries:
Certification from DILG/ Office of the Presidential Adviser on the Peace Process (OPAPP)
-Parents as business owners:
BIR Form 1701A-2022
-Parents employed in Government or Other Agencies:
BIR Form 2316-2022; and/or
Certification from the Human Resources indicating its salary and other compensation related details
-Parents working abroad:
Overseas employment contract
-With Deceased parents:
Death Certificate
-For Solo/Single Parent:
Solo Parent Certificate from MSWD/DSWD; and/or
Notarized Sworn Statement indicating their current status (single, solo-parent, separated, etc.) and the amount and source of income.
-Not classified from a-h (Unemployed, Housewife/ Househusband, no- fixed income, guardianship, self-supporting):
Notarized Sworn Statement (indicating the name of Parents/Guardian Source and amount of income)
4. Certificate of Residency issued by the Barangay
5. 2×2 picture with nametag and white background (4pcs)
7. Additional Requirements for Athletes and/or Culture and Arts Delegates:
Certification from the current school, signed by the principal & coach or; Certification from the municipality or any institution (Private or Public) that he/she is one of the official candidates (indicate to which specific sports or culture and art activities belonged and the highest level reached; example: Regional, National, International, etc.)
APPLICATION REQUIREMENTS SHOULD BE SUBMITTED TO THE CAMPUS OF YOUR FIRST CHOICE.
Note: During the college application period, the Student Admission Office will accommodate limited number of applicants per day for the MAIN CAMPUS (Lucban, Quezon) from MONDAY – SUNDAY; 8:00am to 5:00 pm (except holidays).
Weekdays (Mon-Fri): 120 applicants/day
Weekends (Sat-Sun): 200 applicants/day
SATELLITE CAMPUSES are open from MONDAY-FRIDAY (except Holidays); 8:00 am to 5:00pm.
Also, NO FEES will be collected for the purpose of application and examination.
(see photos for more details)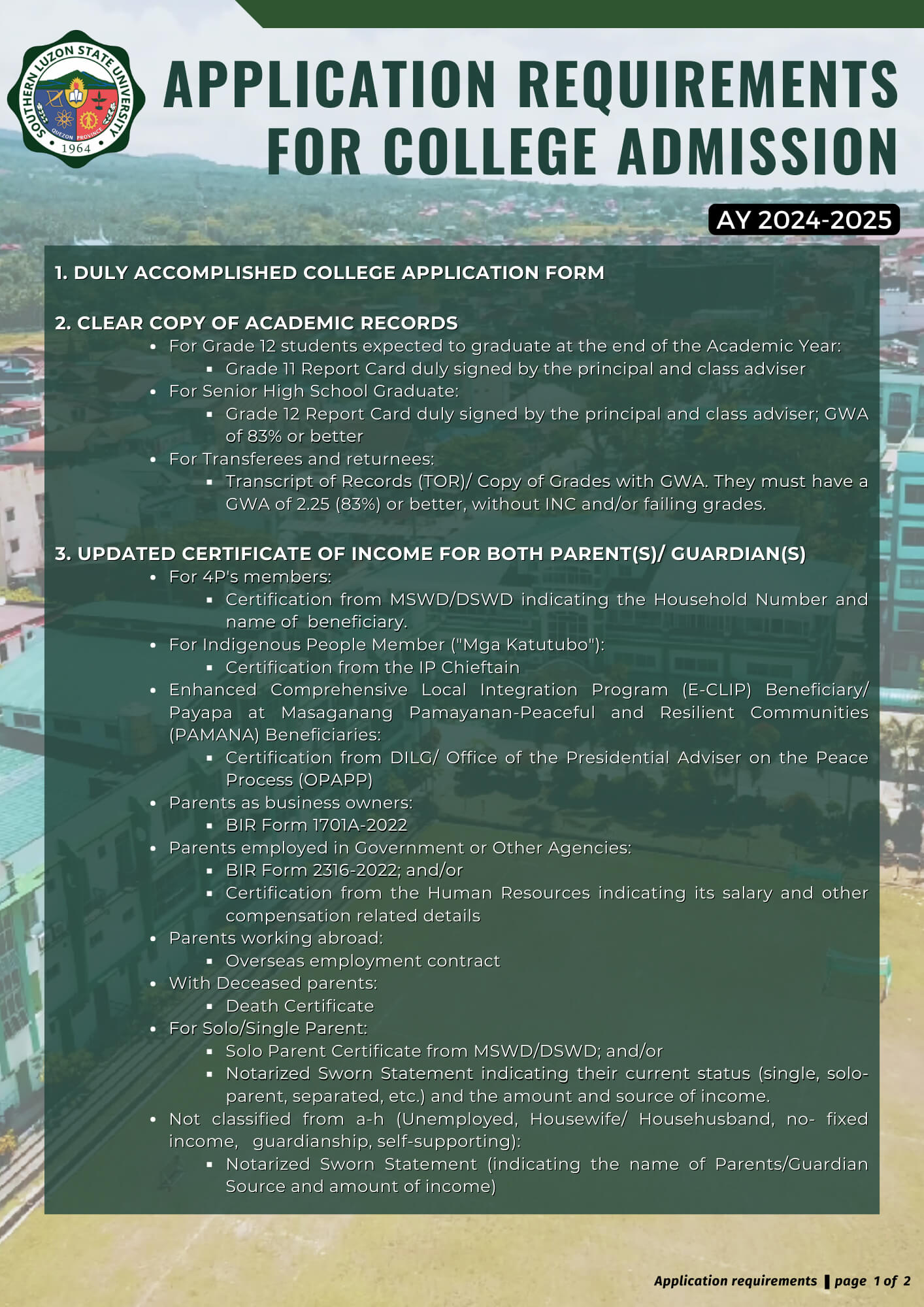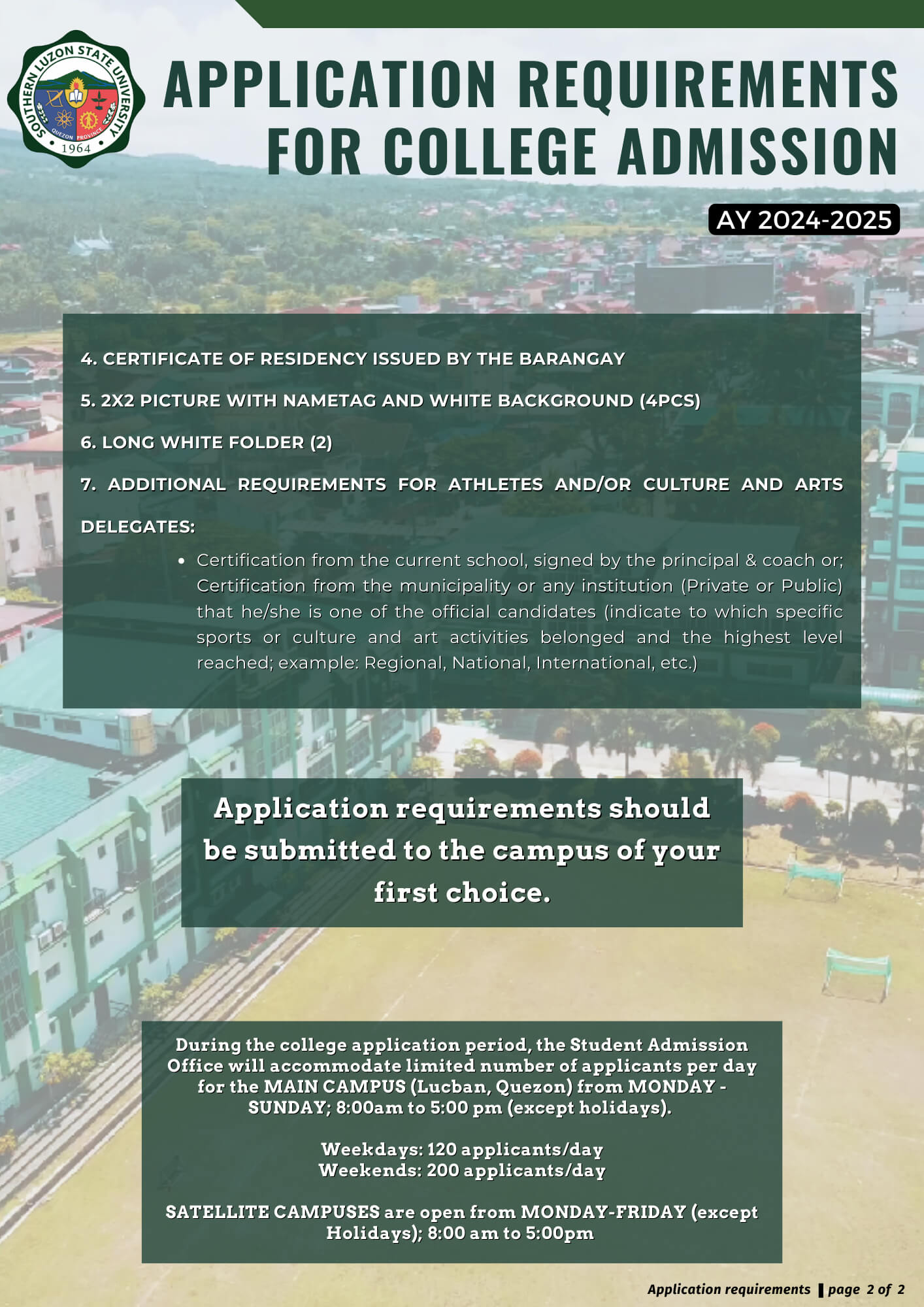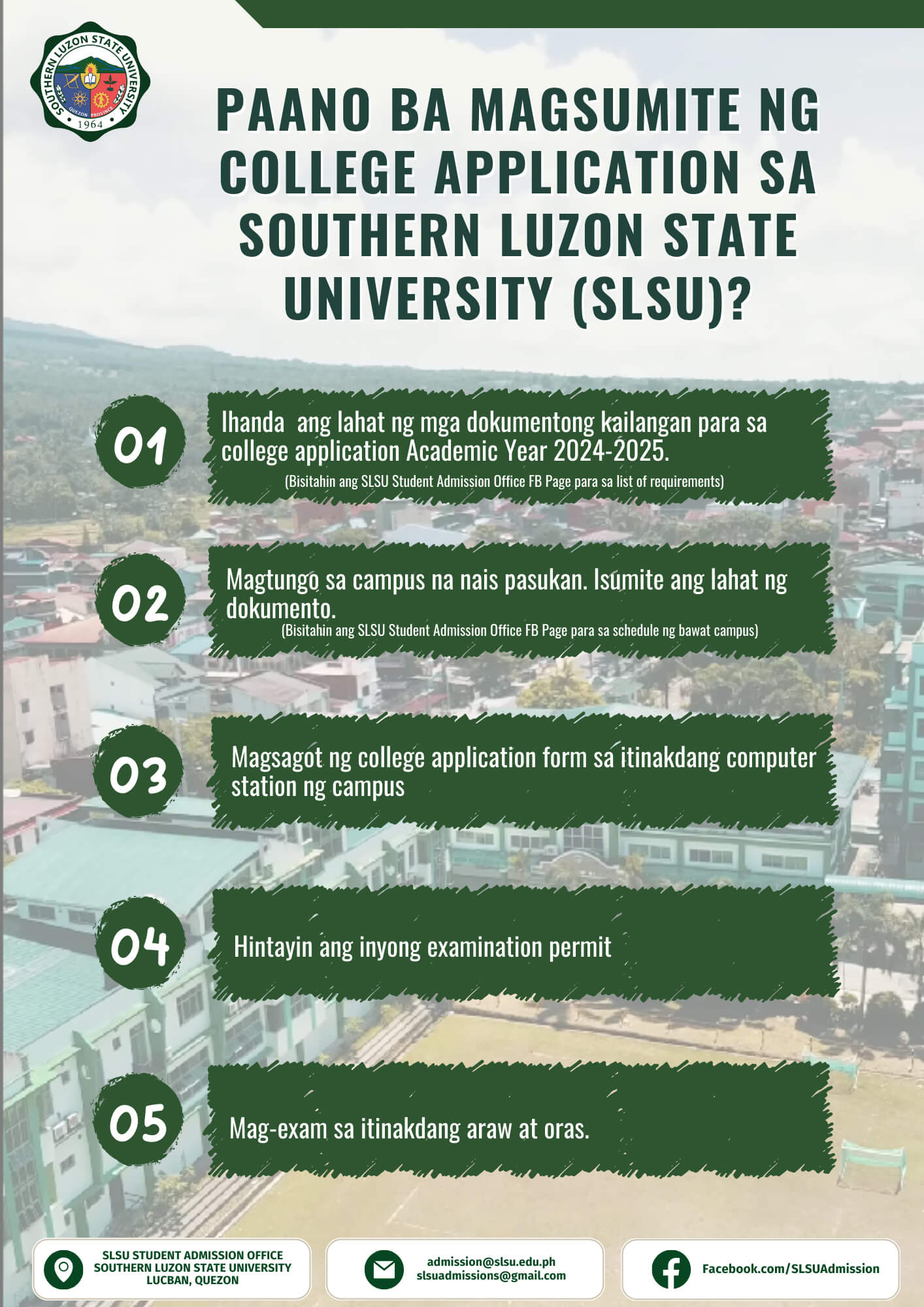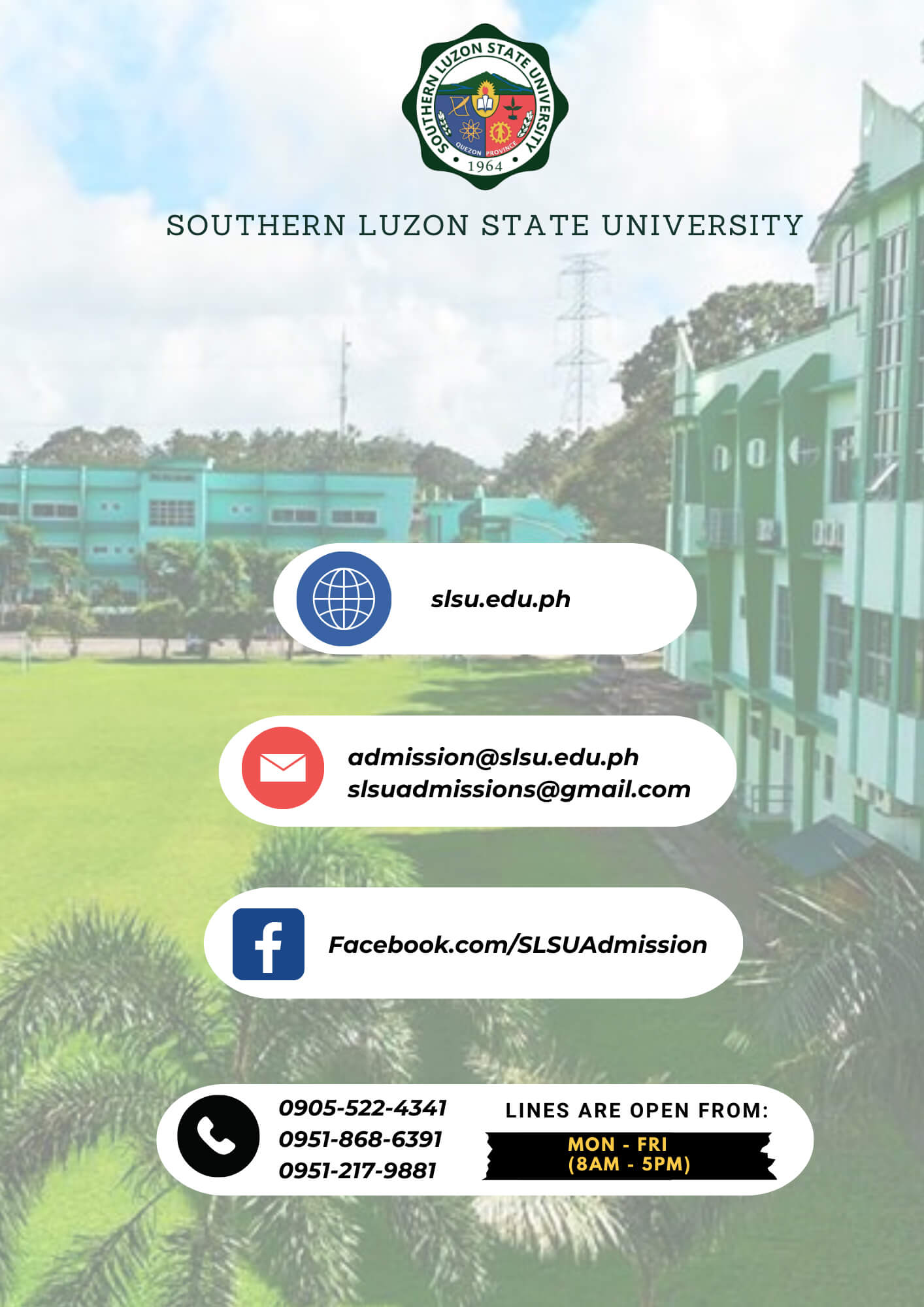 For other concerns and/or inquiries, you may contact us through:
SLSU STUDENT ADMISSION OFFICE
SOUTHERN LUZON STATE UNIVERSITY
LUCBAN, QUEZON
0905-522-4341
0951-868-6391
0951-217-9881
LINES ARE OPEN FROM MON-FRI 8AM – 5PM
admission@slsu.edu.ph
slsuadmissions@gmail.com