One of the best practices of the SLSU – Guidance, Counseling, and Testing Center is the tele-counseling services provided to students seeking professional help from our counselors. The onset of the pandemic did not hinder the guidance. Other than providing their services, individual counseling has been available to students even during the pandemic through our online tele-counseling. As we transition back to face-to-face classes, the tele-counseling services will still be provided. The students may choose between a face-to-face individual counseling or online counseling via zoom, google meet, or video conferencing.
Introducing the SLSU Guidance Counselors
Dear SLSU students, we would like to introduce to you your assigned Guidance Counselors:
| Guidance Counselor | Colleges / Campus |
| --- | --- |
| Prof. Alexandra Wanda L. Villon, RGC | College of Administration, Business, Hospitality and Accountancy |
| Dr. Noreen P. Echague, RGC | College of Industrial Technology |
| Dr. Helene D. Daya, RGC | College of Allied Medicine and College of Agriculture |
| Prof. Fides Joyce O. Llegado, RGC | College of Engineering |
| Prof. Michelle V. Ramirez, RGC | College of Teacher Education |
| Ms. Joanna Rodessa R. Capilitan, RGC | College of Arts and Sciences |
| Dr. Rebecca D. Jason, RGC | SLSU JGE- Tagkawayan and SLSU Calauag Extension Classes |
Faculty and staff may refer students for counseling and other guidance services.
Students may directly book their counseling appointments by scanning the QR code of your assigned Guidance Counselor or visit https://qrco.de/bdqwWS.
The Guidance, Counseling, and Testing Center is open for in-person and online counseling from Monday to Friday, 8 am to 5 pm (except on Holidays).
There is help, book your counseling appointment now.
Kamustahan with the
GUIDANCE COUNSELORS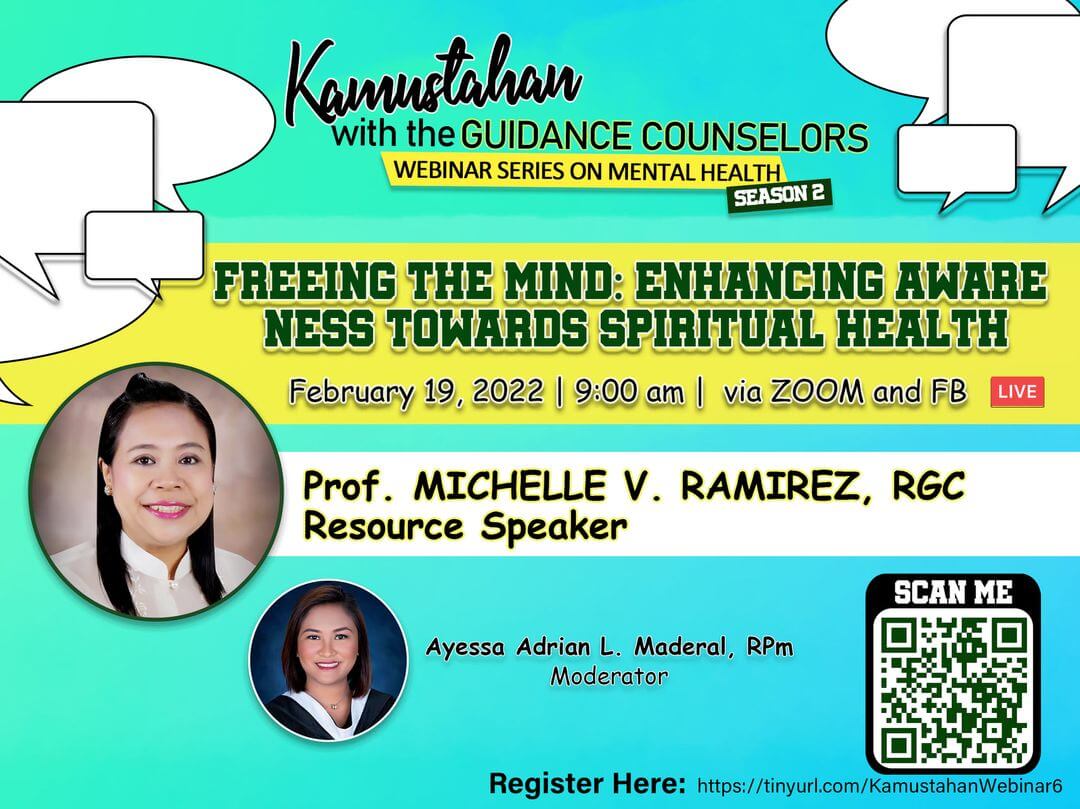 The fifth online event is the last installment of the second season of this school year's webinar series. The topic discussed was all about knowing the aspects of one's spiritual health. The webinar was held on February 19, 2022, 9:00 AM delivered via ZOOM video conferencing and Facebook Live. The webinar started with the preliminaries (Opening Prayer, National Anthem, webinar reminders, and Opening Remarks) followed by the introduction of the guest resource speaker by the moderator, Ms. Ayessa Adrian L. Maderal.
It is then followed by the seminar proper wherein the participants were exposed to the main topic of the webinar entitled "Freeing the Mind: Enhancing Awareness Towards Spiritual Health" delivered by Prof, Michelle V. Ramirez. The topic was selected to aid students with the knowledge they need in learning in the new normal. The activity was followed by the open forum wherein participants may ask questions to the resource speaker, The activity ended with the moderator providing the link of the online evaluation and announcements.