The University President serves as the overall head of all units or branches of SLSU, whereas the Vice President for Research, Extension, Production, Development, and Innovation (VP-REPDI) with the Director of the Office of Production Services (OPS) shall report directly to the President. The respective Deans and Directors of different colleges and campuses should inform the Director of Production Services about their projects concerning production services for proper monitoring and reporting. The SLSU OPS shall undertake the overall management and operation of production projects of the university. The projects shall be approved and implemented in accordance with the submitted proposals or feasibility studies to ensure the success and revenue generation of the investment as accidental income. Part of the proceeds shall be included in the general fund and can be used as supplemental financial resources of the university with the approval of the Board of Regents.
⦁ Production of research-based products to establish production specifications and standards;
⦁ Assisting the proponents of research-based products in the development of the production project proposals;
⦁ Endorsement of the commercially feasible products or technology to the Office of Extension Services for transfer to the community or the Business Affairs Office (BAO) for commercialization;
⦁ Support the college production plan as accidental income generation;
⦁ Monitor and evaluate the production activities of the colleges and campuses;
⦁ Prepare, in coordination with Project Leaders, the budget for Production Services and provide general coordination and supervision over disbursement of the approved budget;
⦁ Establish linkages with other government and private agencies for coordination, material, financial support, and smooth performance of production functions; and,
⦁ Perform other duties and responsibilities related to or implied from the above enumeration of duties and responsibilities.
Premier research university that generates Science and Technology based innovations. (Research, Extension and Production)
⦁ Develop a production plan for Science and Technology innovation
⦁ Testing the Production Plan;
⦁ Transfer the developed technology and products to the Business Affairs Office, or the community;
⦁ Capacitate the proponent in the management aspect of the project generate accidental income from the internally and externally funded production projects; and,
⦁ Serve as the physical venue for hands-on training of students and other interested individual, groups, and future entrepreneurs.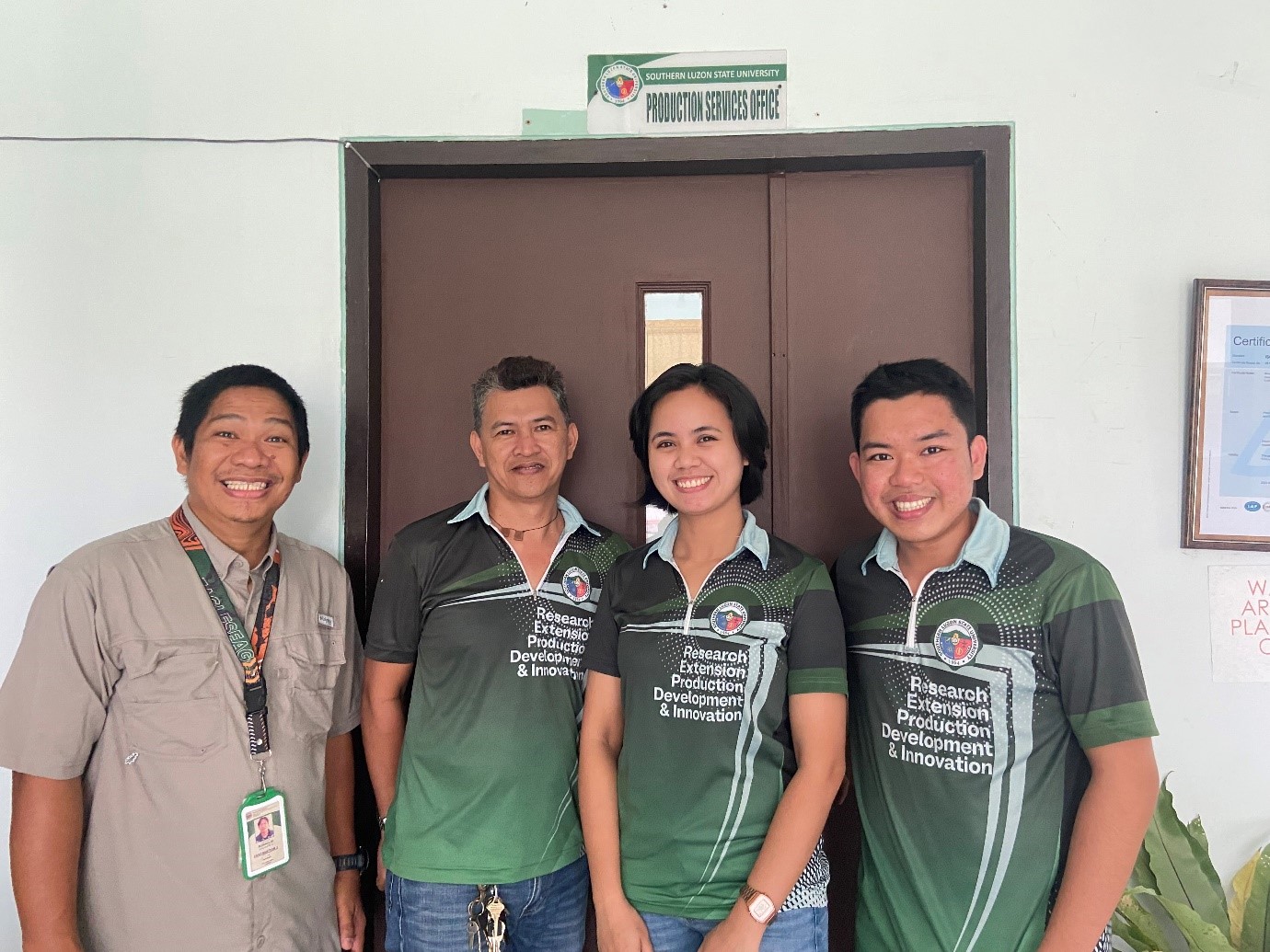 The SLSU OPS attended and participated the CHED SUCs Fair in Lipa City, Batangas on April 24-28, 2023, together with CHED Regional Director Virginia D. Akiate, and Dr. Marissa C. Esperal-Vice President for Research, Extension, Production, Development, and Innovation (VP-REPDI), with our University President, Dr. Doracie B. Zoleta-Nantes.
2nd Floor, REPDI Building (Old Digitel Building),
Southern Luzon State University, Brgy. Kulapi, Lucban, Quezon 4328
Contact Nos.:(042) 540 8506
(042) 540 4816