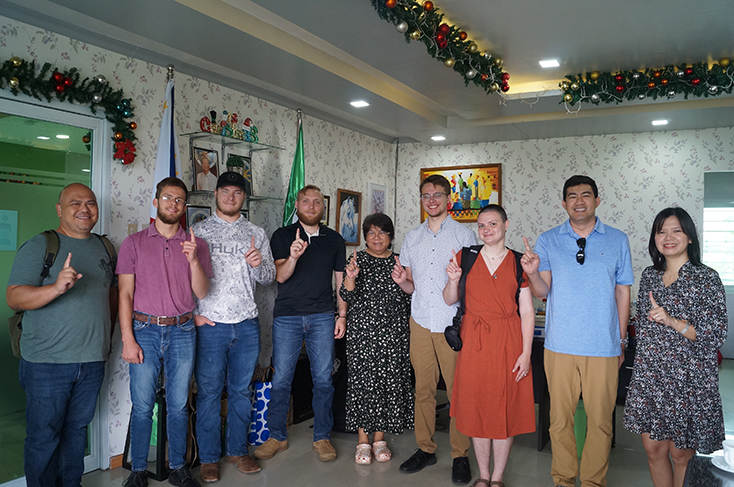 With the successful implementation of last year's in-person academic exchange, faculty members and students from Glenville State University (GSU) visited SLSU on June 5, 2023 in coordination with the Office of International and Alumni Affairs and College of Agriculture, for another round of sharing of academic ideas, insights and experiences.
SLSU warmly welcomes the delegates from Glenville State University, West Virginia, U.S.A.– Dr. Rico Gazal (Professor of Forestry), Prof. Jacob Petry (Lecturer of Land Surveying), Brandon Mullins (BS NRMT major in Wildlife Management), Elijah McIntyre (BS NRMT major in Forest Technology), Briar Stehman (BS NRMT major in Environmental Science) and Chloe Richardson (BS NRMT major in Wildlife Management).
The academic exchange was held at the Banahaw Hall of Business Resource Center of SLSU-Main Campus in Lucban, Quezon, Philippines, attended by the university officials, faculty, staff and students. 
Dean of College of Agriculture Dr. Juanita T. San Jose formally opened the program by giving a warm welcome remark followed by the inspirational message by SLSU President Dr. Doracie B. Zoleta-Nantes. GSU faculty Dr. Gazal presented their academic programs and Prof. Petry had a brief lecture on land surveying. Faculty and students of the College of Engineering – Civil Engineering headed by Dean Dr. Renato Maaliw III also joined the academic exchange as the Land Surveying is related to the program. Likewise, Dr. San Jose also discussed the academic programs offered at SLSU – College of Agriculture. 

Dr. Frederick T. Villa, Vice-President for Administrative and Financial Affairs and Dr. San Jose awarded the student presenters a Certificate of Appreciation for their research paper presentation, and the GSU faculty in recognition of their efforts to strengthen the academic collaboration between the institutions. The Glenville State University was also given the award for their support to the university in providing worthwhile projects and programs to uplift quality of education.
A field demonstration in the afternoon at Clonal Nursery and tree planting at the College of Agriculture was facilitated by Prof. Eraldwin Dimailig. A tour at the Agroforestry Farm in Sariaya, Quezon and Girasoles Farm in Candelaria, Quezon, both owned and managed by CAg Alumni, was also arranged through the Program Chair of BS Forestry and Master in Forestry Dr. Amalia Almazol.
Being on the same page, SLSU and GSU continuously explores a meaningful academic collaboration in providing global learning experience to students and faculty.