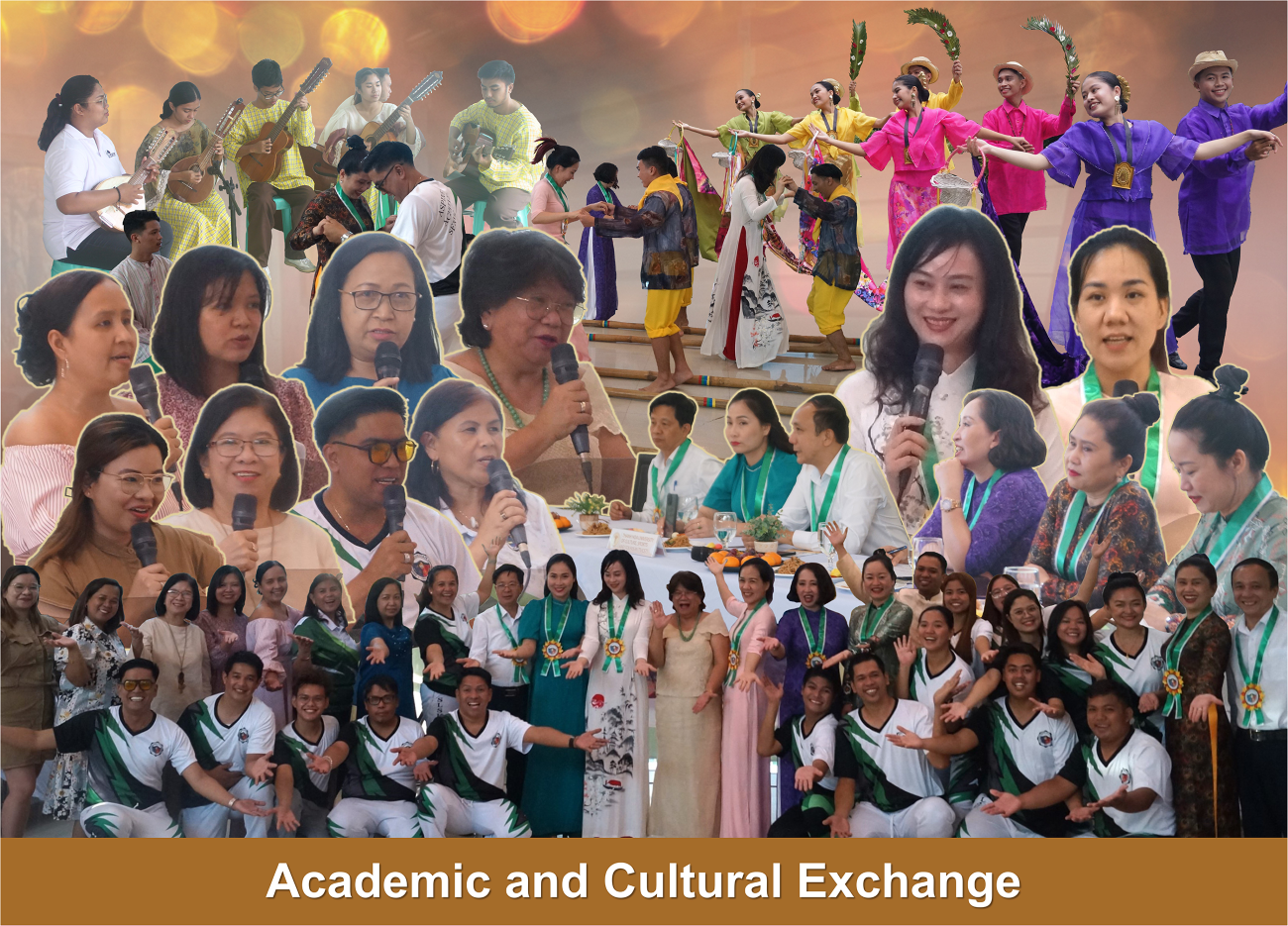 Southern Luzon State University warmly welcomed the delegates from Thanh Hoa University of Culture, Sports and Tourism – Dr. Dong Huong Lan,   Ms. Nguyen Thi Lan, Ms. La Thi Tuyen, Ms. Pham Thi Hoang Hien, Mr. Tran Viet Anh, Mr. Nguyen Nhu Hai,   Ms. Nguyen Ha My, and Ms. To Thi Huong. 
TUCST is one of the international partners of SLSU for the College of Teacher Education – IHK BSESS program, an institution in Vietnam with the mission of training high-quality human resources on the fields of culture, sports and tourism.
A "Putungan" Ceremony was organized by the IHK in which their faculty and students had a special performance to honor and welcome the TUCST delegates on June 22, 2023, followed by the Academic and Cultural Exchange, facilitated by the Office of International and Alumni Affairs and hosted by its director Dr. Joanna Paula E. Verano. The Vice-President for Academic Affairs Dr. Gondelina A. Radovan formally opened the program by giving a warm welcome remark. SLSU Sinag Banahaw Cultural Troupe rendered a cultural performance showcasing a glimpse of Philippine culture and traditions and enjoined the delegation from TUCST in the "tinikling" dance. An inspirational message was delivered by SLSU President Dr. Doracie B. Zoleta-Nantes while the academic programs, project, and activities were presented by the College of Teacher Education Dean Dr. Marietta A. Villaverde, Head of IHK Prof. Federico A. Ceribo, College of Administration, Business, Hospitality and Accountancy Dean Dr. Chona V. Cayabat, Hospitality Management Program Chairperson Prof. Bernadette N. Lajara and College of Arts and Sciences Dr. Shiela M. Manzanilla.  On the other hand, TUCST Vice-President Dr. Dong Huong Lan highlighted the strengths of their program on sports, sharing the international and national engagement of students in various competition.
A campus tour was also conducted on the last day of stay of the TUCST delegation at the SLSU Main Campus, where they visited the laboratories and facilities, particularly, the main library, College of Allied Medicine and the Institute of Human Kinetics. The campus tour was hosted by the OIAA in coordination with the respective offices.
On June 23, 2023, a culture appreciation was facilitated at the National Museum, Manila City wherein the delegation was able to learn the paintings, painted photographs, prints, drawings and studies, installation art, sculptures, documents, and memorabilia of Filipino artists.