Empowering Business Students through Mentoring Program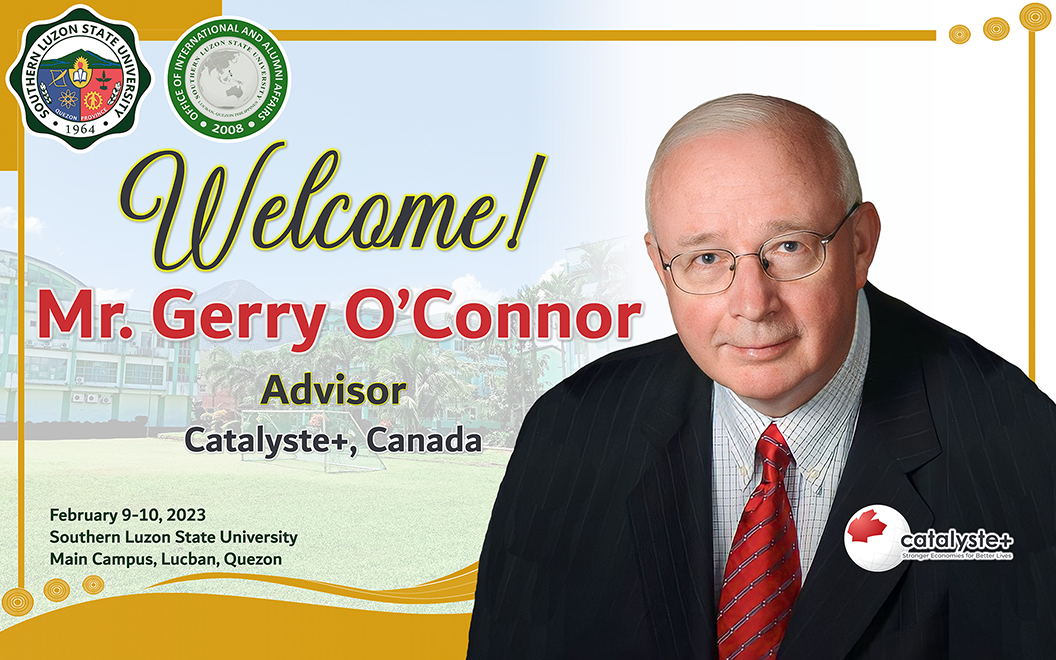 SLSU – Office of International and Alumni Affairs (OIAA) welcomes the Catalyste+ Advisor Mr. Gerry O'Connor at Southern Luzon State University (SLSU) main campus in Lucban, Quezon, Philippines.
A campus tour was conducted on the first day of stay of Mr. O'Connor, where he was able to learn the laboratories and facilities particularly, the main library, Hospitality Management laboratory, College of Administration, Business, Hospitality and Accountancy (CABHA), Office of Students Affairs and Services (OSAS), Administration building, and College of Allied Medicine (CAM). The campus tour was hosted by the OIAA through Director Dr. Joanna Paula E. Verano, assisted by OIAA staff: Ms. Jeannet Cosejo, Mr. Dexter Diamante and Ms. Kaye Xandra Racelis, and in coordination with the respective colleges.
OIAA facilitated a recognition program for Mr. O'Connor who extensively shared his expertise and stimulated the students' entrepreneurial spirit. Dr. Verano formally opened the program by giving a warm welcome remarks followed by the appreciation message by the SLSU President Dr. Doracie B. Zoleta-Nantes, Vice President for Academic Affairs Dr. Gondelina A. Radovan, and Dean of CABHA Dr. Chona V. Cayabat. Present in the said event are the faculty of CABHA and the participants including the group of business students who won the "Best Business Plan" during the mentoring sessions.
The faculty and students expressed their appreciation to Mr. O'Connor, to Catalyste+, and to the university for providing them an international and industry perspective on enterprise development through the implementation   of    "Empowering Business     Students    through Mentoring " program.
The successful  implementation  of  the  mentoring program  provided the  students  with  a  wonderful  learning  experience.  Mr. O'Connor admired the faculty, staff, officials, and the students with their support and cooperation in the execution of the projects and programs of SLSU with Catalyste+ towards achieving the common goal of providing a quality education for the students. The closing remarks were delivered by the Project Officer of Catalyste+ Mr. Erwin Altamarino.
SLSU is privileged to be supported by Catalyste+ in this endeavor, providing opportunities to cultivate and support build business community through the mentoring of students with the expertise of Catalyste+ advisors.